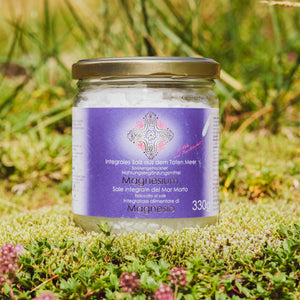 Magnesium
Regular price
$30.00
$0.00
Unit price
per
Tax included.
Shipping
calculated at checkout.
MAGNESIUM Integral salt from the dead sea - From the sun evaporation basin of the Dead Sea.
Magnesium is a mineral that occurs naturally in the human organism, and is crucial for a healthy life. In our body, magnesium is often contained in the cells and helps to form tissues, but above all bones need sufficient magnesium. 'Integral salt from the dead sea, magnesium' is a high-quality product, which is produced in large evaporation basins at the south end of the Dead Sea. During the drying process, the sun separates one element from the other. The manufacturing process is a completely natural process. The large evaporation areas and constant controls ensure a consistent very high quality.
How to use: mix 16,5g (about 1-2 coffee spoons) ' Integral salt , magnesium ' with 500ml of water. We recommend using a glass bottle instead of a plastic bottle.
Store in the refrigerator.
Drink 1 - 2 times 20 ml every day.
Do not exceed the recommended daily doses. Dietary supplements are not intended as a substitute for a balanced and varied diet and a healthy lifestyle.
Advantages and features: Magnesium brings many advantages, for example, it contributes to electrolyte balance, to the reduction of fatigue, to a normal function of the nervous system and to normal muscle function. In addition, magnesium plays a decisive role in cell division and activates around 300 cell functions. In addition, it contributes to normal protein biosynthesis. The chloride contained in the salt is natural and contributes to normal digestion due to the formation of stomach acid.
The product is in the register of supplements of the Italian Code 62206.
---
Share this Product
---